A Quick Guide to Winter Camping in the UK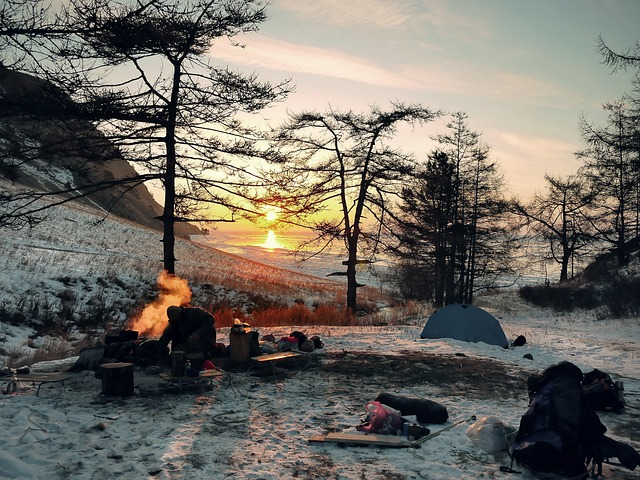 Winter camping is highly underrated.
We all know winters in the northern hemisphere are not for the faint of heart. Rain, cold, wind, and even snow can all be constant companions.
While most people don't equate this season with spending time outdoors, winter camping in the UK can be a wonderful and rewarding experience.
This article will cover:
---

3 reasons why YOU should Winter Camp in the UK
More solitude, peace, and quiet.  
Fewer people camping means no overcrowding. 
Enjoy different seasons.  
Winter has its own beauty, light, sights, smells, and sounds. Your love of nature will grow with a deeper connection to the seasons.
More rewarding.    
Winter camping is a little more challenging. It might even feel like a test at times. But your outdoor skills and knowledge will improve through new experiences.
Winter views are something else.
---
Winter Camping Tips
Winter is arguably the most difficult of all the seasons to camp in.
The weather is much less hospitable and can be dangerous if you are not adequately prepared.
You need to carry more gear and be more intentful (no pun intended), BUT…
The good news is that with a few adjustments to your regular camping routine, you'll be on your way to a more enjoyable and memorable experience.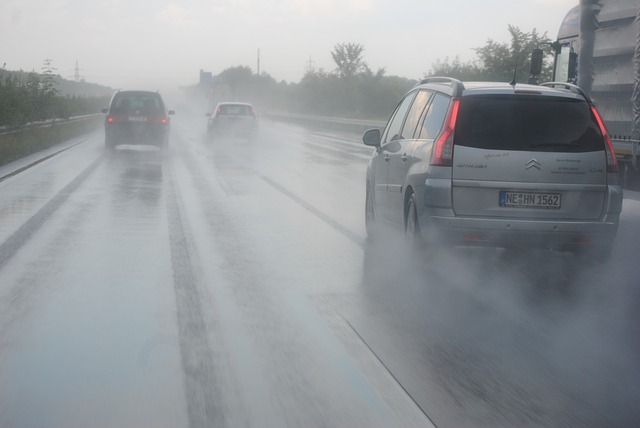 UK Winters = Slick roads & short days
Check the weather forecast
Always check the weather report when heading into the outdoors.  

It seems simple. And it is. But so few actually do until it's too late.

Check both your driving route and where you are camping. The general area might look fine, but microclimates and storm fronts at higher elevations and coasts can create more extreme weather.

Winter weather is inherently more dangerous. Roads are slicker, the temperatures can be extremely cold and potentially life-threatening, and ice and snow can create riskier situations.
Have a back up plan
As we know, in winter, the weather can be very unpredictable.

If the weather conditions make it difficult to travel to the location you originally planned then its best to be prepared with a back up plan.

Other parts of the country may have better weather forecasts which will make your life easier rather than going ahead and travelling in treacherous conditions to where you originally planned.
Check road conditions
Like the weather, you should check the road conditions before heading out.

If the roads are expected to be dangerous, and you don't absolutely have to go, be glad that you have a rooftop tent and try again tomorrow.

Pro-tip:  Chat with locals about which routes to take or avoid.
Double-check that the campsite is open
Campgrounds might be less populated by fair-weather campers, but many sites close for the winter. This means booking ahead and calling to verify they're open.

Few things are worse than driving all day to a closed campsite. 
Set up early
Winter days are inherently shorter, so you should factor that into your drive time and setting up camp.

Setting up in the dark isn't necessarily difficult. Still, once that sun dips below the horizon, temperatures can plummet, and it's much more difficult to warm up once you're already cold.
Setting up early gives you more time to enjoy the surroundings.
Communicate with loved ones, especially when heading to remote locations.
As a general rule of thumb, keeping loved ones informed of your location and plans is a good idea.

Winter roads can be slick and dangerous.  

Simply updating friends and family on your outdoor and travel plans can give everyone peace of mind. It can also provide rescue crews with a jumpstart in the unlikely event that you get into trouble.
Keep shoes inside
It's standard practice to leave your shoes outside your tent during the warmer months.  

This is done to avoid bringing dirt into your tent. However, in the winter months, remember to bring your shoes/boots inside. This will prevent them from getting wet or even freezing.  

There are few worse things than slipping your feet into soggy boots on a frigid morning. Your future self will thank you.
Keep battery packs and cell phones in your sleeping bag
Cold weather saps battery power.

You'll need that battery power to navigate, make calls, or charge your other devices. Keep your battery packs and electronics in your sleeping bag to ensure you have a charge.  
Hydrate
Most people tend to drink less water when it's cold, but you'll be amazed at how dehydrated you can get when the temperatures drop.  

Consider how much moisture is expelled when you see your breath on a cold day. That's water leaving your body with every breath. You may not feel the same level of thirst that you will on a hot day, but you still need to keep hydrating.

Pro-tip:  Drinking cold water on a freezing day can drop your core temperature, so drink hot tea and broth.  
Ventilation is important

Moisture and cold weather are a dangerous combination.  

Some tend to wear too many clothes, which can lead to sweating, a potentially dangerous situation when it's freezing cold.  

Additionally, condensation can accrue on the inside of the tent without adequate ventilation. This can lead to a damp environment in what is supposed to be your cosy, safe haven.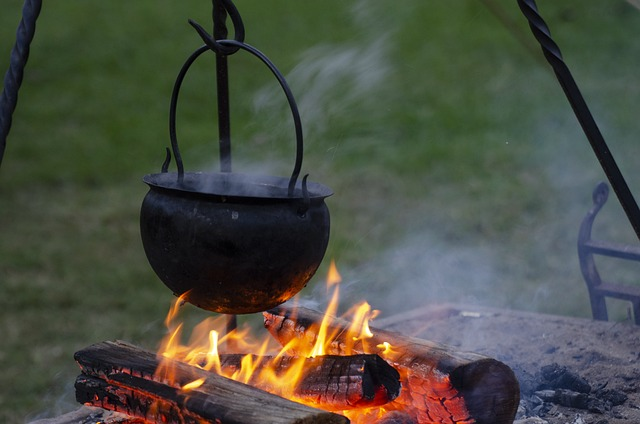 Hot food does wonders for morale and body warmth.
Bring extra food and cooking gas
When it's cold, your body needs extra calories to keep warm. So, bring more calorie-dense food and ensure it'll be something you'll enjoy.

You'll want more hot food and hot drinks. Bring extra cooking gas so that tea and soup are never in jeopardy.

It may be worth investing in good cooking equipment but don't bring the entire kitchen! And please do not bring a spork unless you want to eat baked beans everyday!

Bring plenty of water for your trip! You need enough water to drink, cook and wash your dishes with.
Eat before bed
One way to avoid being cold while camping is to eat food close to bedtime. Especially food that is heated up. This process gives your body calories to burn, and that digestion process naturally heats your body up. 

Pro-tip:  Aim for longer-digesting foods such as potatoes, meat, nuts, and cheese.
Avoid exposed windy spots
A steady summer breeze is an excellent method to keep mosquitoes at bay. However, in winter, you should avoid exposed pitches when possible.  

Wind chill removes the warm layer that's immediately around your body. It can make situations go from unpleasant to dangerous, especially if you are wet.

Pro-tip:  Look for sheltered pitches among trees or near hard surfaces like buildings or rocks.  
The ideal pitch is dependent on the weather. Protect yourself from winter winds and driving rain when possible.
---
Choosing the Right Tent
Rooftop Tents are great for winter camping as you're off the cold ground, made of more durable and thicker material which will help you stay warm.
Many winter campers must confront the choice between a 3 vs 4-season tent.
Which one do you need?  
Here's the truth…you can winter camp with almost any tent.
But your comfort and safety will depend on the following:
An adequately rated sleep system (i.e. sleeping bag)

Keeping the wind off of you

Staying dry
Ultimately, it's a personal decision, and you must define your parameters, budget, needs, and desires.
Here's a quick breakdown of 3 vs 4-season tents:
Three Season Tent
Advantages:  

Lighter.

More affordable.

You can add insulation. 

 Weaknesses:

Not as warm.

Not as strong.

Less water-resistant but still exceptional.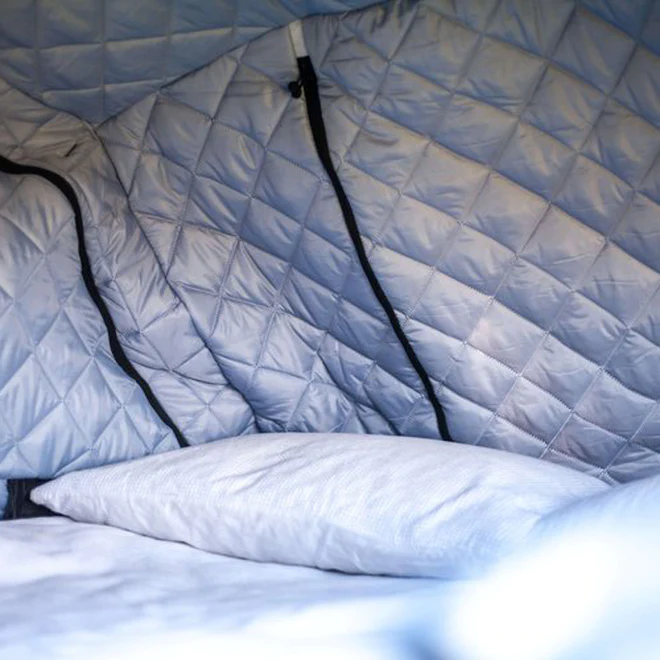 Turn it into a cosy tent. Adding insulation to your 3-season tent does wonders for heat retention.
A 3-season tent with added insulation is more than adequate for most people.  
However, if you're in the market for a 4-season tent, the Crua AER is a fantastic option. The tent won the 2021 "Best Rooftop Tent" award by Popular Mechanics.
Pro-tip:  Clean and dry out your gear after every trip, including your tent. Take care of your gear, and it will take care of you for a long time.  
Four Season tent
Advantages:  

Warmer.

Strong frame.

Less wind noise.

More water-resistant.

Excellent at blocking wind.

Better insulation from the heat.

Weaknesses:  

More expensive.

Less ventilation.
Water resistance and Hydrostatic head ratings
Just because a Roof Tent is waterproof does not mean it is waterproof to different kinds of rainy conditions.
See if you can find out the Hydrostatic Head Rating. A Hydrostatic Head test, tests the fabrics ability to withstand water.
For example a 2000m Hydrostatic Head Rating just means that during testing the column of water was 2 metres (2000mm) tall before the material leaked.
We have the following ratings and what level of conditions it can take:
1,500mm HH - Can take general rainfall but may begin to leak if you are in heavy rainfall.

2,000mm HH - The most common rating and is common for 3-season tents. This can withstand heavy rainfall.

3,000mm HH - This can withstand extreme rainy conditions (we don't recommend actually camping in these conditions! But its good to know) and good for camping in high altitudes.
---
Additional gear
Don't forget that pets get cold too.
The following winter camping gear & accessories will definitely make life more comfortable and you sleep warm for your winter camping trip whenever you decide to go.
Extra layers & blankets
This seems obvious, but there are always people who don't bring enough clothing for the cold weather. It can be genuinely dangerous when the mercury drops below freezing.  

If caught outside in a downpour, you and your loved ones will appreciate having warm, dry layers to wrap yourselves in.

It also ensures that everyone will have a more enjoyable experience, rather than being miserably cold and unable to focus on the beauty around them.

Pro-tip: Layer your clothing for easier temperature management.  This article from REI covers the subject in more depth.
Goose Down + Rain Shells
Goosedown is a natural wonder that has been keeping people warm for centuries. It's breathable, light, and packs well.

Combined with a waterproof rain shell, you create an effective barrier against wind, rain, and cold, allowing you to better enjoy whatever mother nature throws your way.
Baselayers
If you don't have baselayers, you're missing out.

They are highly underrated apparel that aids in warmth and wicks moisture away. Use them to sleep in and layer under your clothes during the day is essential to staying warm.  

There are many options in brands and materials: Check out this write-up for help choosing baselayers.

Pro-tip: Don't overlook the importance of leggings. There's a lot of surface area to lose heat through.  
Footwear
Insulated & waterproof shoes/boots should be considered for the winter months. Slushy snow, muddy trails, and extended rain can make a great day miserable if you don't take care of your feet. 

One drawback to waterproof shoes/boots is that when they do get wet, they take forever to dry.     

No matter what, bring at least one change of shoes/boots to give your other ones a chance to dry especially if there is heavy snow.

Pro-tip:  Bring extra wool socks & keep your feet warm!

Even with waterproof boots, your feet can still get wet. The beauty of wool is that it still retains heat when wet, ensuring your sloshy toes won't freeze.  

However, putting on a dry pair of wool socks is a game-changer and a quick way to lift your spirits and avoid cold feet.  
Cooking essentials
A Sharp knife is all you really need to cook instead of bringing extra garlic crushers and small utensils

A couple of decent pans (and lids) will go a long way.

A cutting board to do your rep. Don't be cramped up trying to cut your food over any flat service you can find.

Plates, cutlery and bowls.

Washing up stuff. A folding bucket, washing liquid, a sponge and a tea towel should be everything that you need!

Pro tip: consider bringing your washing up gloves as the water when washing up will be very cold!
Insulated Mugs & Bottles
This is a non-essential item, but it will make your winter camping experience much better.  

Single-walled mugs are great because you can put them straight on the flames of a fire or cooker. However, they also lose heat quickly, turning that hot morning coffee into a cold brew in no time.

Double-walled mugs cost a little more but will allow you to sip on your hot beverage rather than feeling like you need to gulp it down while it's still hot.

Pro-tip:  Adding hot water to your single-walled water bottle and putting it in your sleep bag is a quick way to get your body temperature back up.
GPS messengers allow you to communicate and call for help when there's no signal.
GPS Locator/Messenger
Sometimes you won't have cellphone coverage. While venturing off-grid, it's a good practice to always bring a GPS locator, no matter the season.  

This gives you and your loved ones a peace of mind in knowing that you can always keep them updated on your arrival, change of plans, or call for rescue services if something goes wrong.  

There are several reputable brands to choose from. We've used SPOT for years to communicate with family but, thankfully, have yet to add to the nearly 9,000 rescues it has provided.
First aid kit
Make sure to bring at the very least a basic first aid kit and check the contents inside.

Take some time to understand how to use all the contents inside to be prepared if an injury occurs.
Matches & Lighters
Always carry matches and/or a lighter.  

Ideally, you're just using them to light a relaxing campfire. However, there may be a time when you have to get a fire lit to stay warm, dry off, or signal for help.

Having both matches and a lighter may seem redundant, and it is intentionally so. Consider the survival/military saying, "two is one, and one is none." You always want a fail-safe, especially when things go awry.

Pro-tip: Keep a small amount of easily combustible tinder in a safe, dry place for emergencies.
Hand Warmers 
Hand and toe warmers are a fantastic, lightweight item to add to your kit. They are simple to use and get the blood flowing when a fire is not possible.

Pro-tip: Extra gloves are a good idea, and a pair of mittens will take your hand warmers to new heights.  
Heaters/AC/Fans
Camping technology has advanced dramatically in the last few years. You don't need to suffer as our tribal ancestors did.  

While not essential…

Portable heaters, air conditioners, and fans are a great way to keep you comfortable and reduce condensation on the inside of your tent.  
Jackery Solar Generators are a game changer. 
Portable Power Stations
While not essential for everyone, some campers may need extra electricity for their fans, heaters, laptops, mini-fridges, and even CPAP machines.  

Modern problems require modern solutions…

So, we've partnered with Jackery, a pioneer in the solar generator industry, to bring you the best portable power solutions available.  
You don't get views like this sitting at home.
---
Summary & Checklist
Checklist for The trip
Check the weather forecast

Have a back up plan

Check road conditions

double-check that the campsite is open

Check your tents water resistance - The Hydrostatic Head performance

Communicate to your loved ones where you are travelling each day

Choose a spot & avoid windy spots

Set up early
Winter camping Equipment Checklist
Bring extra food and cooking gas

Bring plenty of water

Bring extra layers & blankets

Consider investing in baselayers for warmth

Consider investing in a good goose down & rain shells

Consider investing in insulated & waterproof shoes/boots

Consider investing in good cooking equipment

Bring a torch

Bring spare shoes

Pack a hat, scarves and gloves!

Bring wool socks & extra pairs!

Bring insulated mugs & bottles

Bring a first aid kit

Consider bringing a GPS locator

Matches & lighters

Handwarmers

Spare bags for wet clothes

Spare bags for dry clothes

Portable heaters

Consider investing in a insulated inner tent

Consider investing in a Portable power station - Don't be left in the dark with no power!
Time to Winter Camp!
There's nothing left to do at this point other than get your gear in line and start making plans for your winter camping trip.  
Winter camping in the UK is not as intimidating as it seems, but learning to comfortably camp in the cold, inclement weather is a learning process.  
Though, the more you do it, the easier it becomes and the more enjoyment you get from experience. 
Cover the general principles we discussed, and you're well on your way to camping in the winter months and all year-round outdoor adventures. 
You'll become a winter camping pro in no time!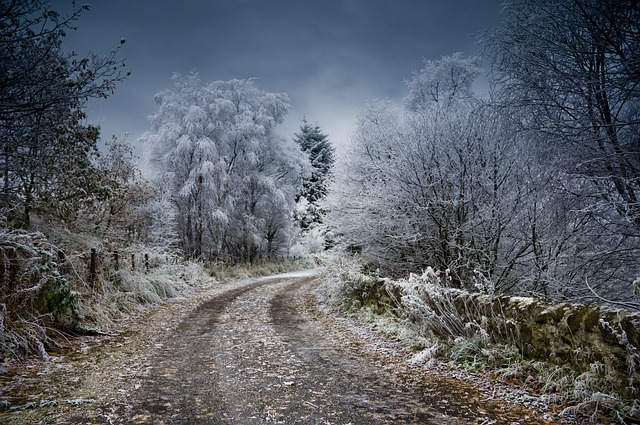 Winter is calling…
---
This article was written by:
Trevor Richards
Writer & Camping enthusiast
Talking and writing about the outdoors and adventures is at the heart of Trevor's ethos. Travelling 35 countries and counting, Trevor is a camping and hiking enthusiast. 
Whether it's hiking 900 miles of the Pacific Crest Trail or spend 8 months on a motorcycle through South America; Trevor has seen, lived and written more than some of us can ever imagine. 
Find out more about Trevor's experience here and follow his blog etchedbytravel.com