Whether you are an avid or beginner camper new to the southeast coast of England and the United Kingdom, camping along the Jurassic Coast is one of the opportunities you should be looking out for.  
Made up of the Dorset and East Devon coast, the Jurassic Coast is undoubtedly one of the most attractive coastlines in the UK and Europe.
It boasts captivating stacks, coves, and arches, making it one of the ideal holiday destinations for lovers of the outdoors. 
The Jurassic Coast is always brimming with amazing discoveries and spectacular views.
Some fantastic landmarks you can visit here include majestic layered cliffs near Lulworth Cove and the historic stone arc, Durdle Door. 
If you are interested in exploring the Jurassic Coast but are still unsure what to expect, this article will step you through:
1. What is the Jurassic coast?
2. The top 3 places to explore on the Jurassic Coast
3. The best campsites on the Jurassic coast
4. Can you wild camp at Durdle Door?

What is the Jurassic coast?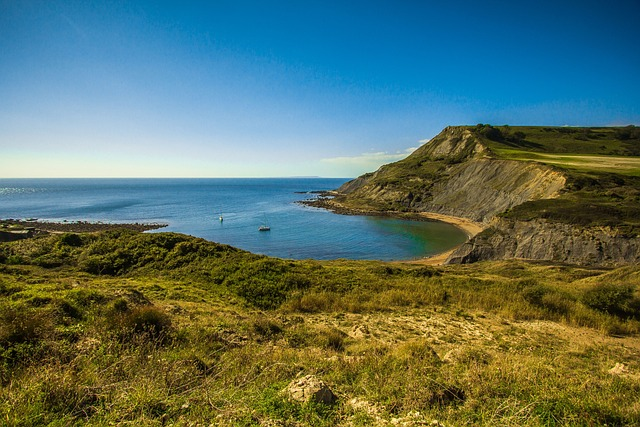 The Jurassic coast is a collective name for the Dorset Coast stretching 95 miles or 154 km from Exmouth, Devon, to Swanage in Dorset.
The area is named the Jurassic Coast because of its abundance of rocks and fossils linked to the Jurassic period dating back more than 140 million years.
Since 2001, Jurassic Coast has been a UNESCO World Heritage Centre thanks to the universal value of its fossils, landforms, and rocks spanning 185 million years of geological History.
This makes it the first natural World Heritage Site in the UK and an important historical place to visit when in this part of England.
The rock formation along the 95-mile coastline offers visitors an array of beautiful landscapes that open opportunities for numerous unforgettable experiences.
Whether you are into hiking, cycling, or taking long nature walks, camping is one of the ideal ways of exploring this beautiful region.
Top 3 places to explore on the Jurassic coast
The Jurassic Coast is home to towering white cliffs, old English pubs, and dilapidated castles, making exploring and camping all the more enjoyable.
Lulworth Cove and Durdle Door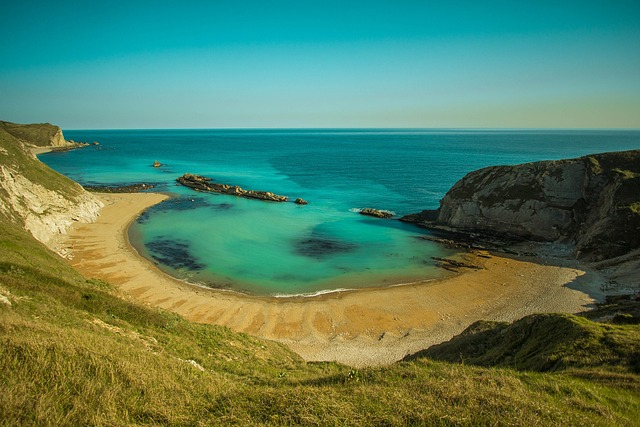 This is an eye-catching circular cove nestled in sweeping pebbles arc and cliffs. Visiting it in the high-tide season allows you to enjoy the magnificent beauty of the beaches.
In contrast, the low-tide season exposes the beauty of the rock pools with all sorts of animals emerging.
Just above Lulworth Cove is the Lulworth Crumple, another interesting phenomenon. The name is synonymous with the cliff's crumpling due to the soft shale's inability to support the force of gravity.   
Lulworth is an excellent entry point to a short walk to Durdle Door. A favorite amongst most Jurassic Coast visitors.
Durdle Door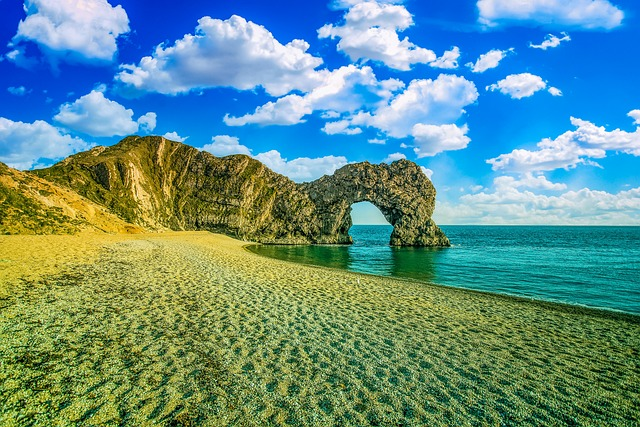 It is an iconic image of the coast made from erosion from crashing waves that have left a natural arch in the sea. Only a 5-minute walk from the Durdle Door car park, this is a magnificent sight to see.
Apart from the arch formation, the area is also home to some of the best scenery on the Jurassic Coast.
Just after Durdle door, you find the Man O'War sand beach where you can swim in the sheltered waters in good weather.
If you are feeling energetic enough for a hike, you can take the undulating paths along cliff edges and enjoy the glorious views of the coast and sea. This is one of the best short walks on the Jurassic Coast.
Old Harry Rocks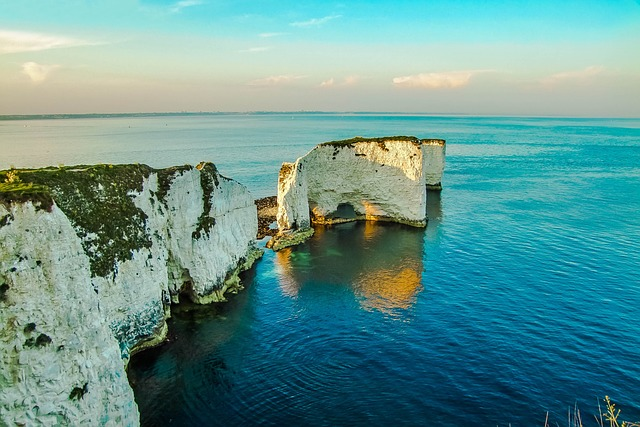 Of Harry is what remains of what was once two white limestone rocks standing tall on the east end of the coast.
You can hike along the tops, paddle around, join a scenic boat tour, or mountain bile over the edge trails to see the rocks.
Whether you cycle, walk, or kayak, stop by Bankes Arms in Studland for a pint of the locally produced ales. Studland is also an excellent spot to snorkel with seahorses.
Lyme Regis and Charmouth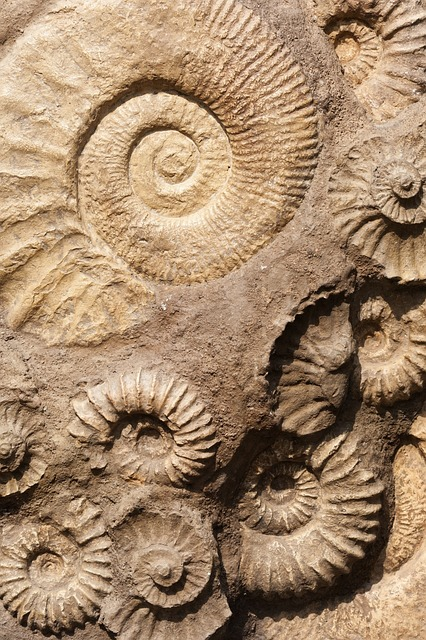 If your number one reason for camping on the Jurassic Coast is to hunt for Fossils, then a trip to Lyme Regis and Charmouth should be on your list.
These two are world-famous fossil-hunting spots. Taking a guided walk with a local is an excellent way of ensuring you maximize your chances of catching some historical artifacts.
The best time to visit Lyme Regis and Charmouth is when the tide is going out, as this leaves rocks freshly exposed.
Camping on the Jurassic Coast
There are up to 14 camping sites around the Jurassic Coast, ranging from options in holiday parks or standalone camping areas.
Here are our top 5 Jurassic Coast Campsites or holiday parks:
Rosewall Camping
Rosewall Camping Campsite by WeymouthCamping
Further west in Weymouth, you can find Rosewall Camping in Osmington, located 5 miles east.
The campsite sits on a 13-acre field, boasting a fantastic view of Weymouth Bay, and is one of the best camping groups on the Jurassic Coast.  
Facilities include two modern toilet blocks fitted with electric points, showers, laundry, and disabled facilities.
A campsite shop operates seasonally, making it easy for you to get basic camping essentials and provisions.
Weymouth is also the perfect place to do a bit of fishing in either Wally's Lake or Meadow Lake!
You can hire a grassy pitch at £18 in the low season and £30 in the high season.
Click image below for location:
Camp Hartland
"Camp Hartland set in wild fields" by www.hartlandstud.co.uk
If you find yourself in Lulworth Cove or Durdle Door, Camp Harland is an ideal location to set camp.
It is a 28-day pop-up campsite offering everything Dorset is known for, including seafront footpaths nearby.
You can expect well-maintained sanitary closets, hot showers, grass pitches, and a campfire spot.
While it may not be a larger holiday part campsite, Camp Hartland is a gem amongst the campsite on Jurassic Coast.
Click the image below for the location:
Golden Cap Holiday Park
Golden Cap Holiday Park Glamping Pod by West Dorest Leisure Holidays 
Golden Cap is more of a holiday park located along Charmouth and Lyme Regis.
It offers hard-base gravel and grassy pitch options, close to the park entrance and a few meters from Seatown beach and the South West coast path.
Golden Cap Holiday Park Campsite by West Dorest Leisure Holidays 
Amenities include a kid's playground, a pizza takeaway, excellent camping facilities, a fishing lake, and excellent views of the coast and valley.
The Golden Cap holiday park is also pet-friendly so you will no worries bringing your furry little friend!
In high season, you can only book a minimum of two days, where a grass pitch would go for £46.
Click the image below for the location:
The St John's Farm
 St Johns Farm Campsite by St Johns Farm
Located minutes from Exmouth Seafront and Woodbury Common, St John's farm is a favourite camping location amongst camping enthusiasts as well as having excellent facilities.
It is also a popular grassy pitch location for walkers and cyclists.
Amenities available include electric hook-ups, disabled facilities, toilets, washing points, hot showers, and water points around the site.
St John's Farm also welcomes dogs so feel free to bring your furry friend along for the adventure and take them to the pet exercise area at no extra cost.
The campsite charges an extra £2 for an electric hook-up. The cost of Pitching is set at £14 and £16 in the Autumn and Summer months, respectively.
All the camping facilities above allow RV homes and camping vans on site. This makes them the perfect places to set up your rooftop tent quickly.
Click the image below for the location:
Quarr Camping
Quarr camping by https://quarrcamping.co.uk/
This is a rural, family run campsite located between Swanage and Corfe Castle. While it is a small site, it boasts an extensive camping field that can accommodate tourers and campervans on a pick-your-own-pitch basis.
Quarr Camping is just a short distance from the nearest beach.
Some amenities include coin-operated showers, toilet facilities, chemical waste disposal, fire pits for hire, and water taps all around the site.
There is also a fantastic range of activities near the campsite:
The Purbeck sports centre in Wareham has all the sports facilities you need; 
Football courts, Tennis, Badminton & Squash courts and a Swimming pool.
Putlake Adventure Farm and The Tank Museum are also great activities nearby!
It is worth noting that this campsite is only open between May and September.
Pitches go for £12 a night, with an additional £1 charged for pets.
Click below for location:
Can you wild camp at Durdle Door?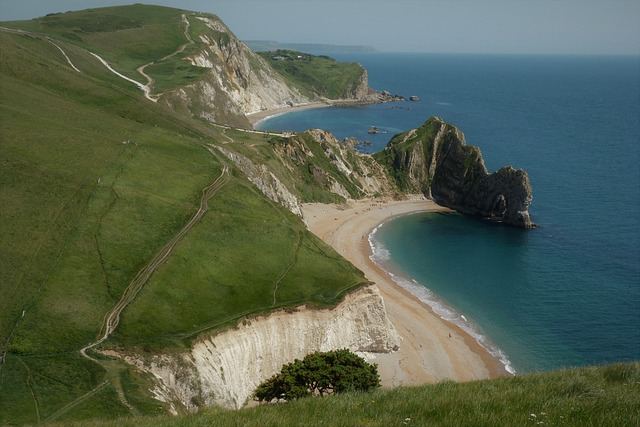 Durdle Door is one of the most magnificent spots on the Jurassic Coast. It is no wonder most wild camping enthusiasts love camping around this area.
There is nothing better than finding a beautiful, secluded location to set up camp for the night.  
While wild camping is legal in most parts of the world, it is illegal in England & Wales.
Specific to Durdle Door, camping is not permitted anywhere along the coast and beaches near Durdle Door. This is common for most tourist destinations.
The rule is enforced to protect and preserve the area.
Even so, you can still wild camp in a location close to Durdle Door. But there are rules.
Most of the land in England and Wales is owned by individuals and organizations and is set aside for different uses. This can be farming, conservation, or even military training.
Therefore, it is possible to wild-camp around Durdle Door with the landowner's permission.
It usually is only allowed for short periods and requires you to use temporary facilities.  
If you are lucky enough to find a land owner who will allow you to wild camp on their land, it is ideal to ensure you conserve the space as much as possible.
One of the best ways is using modern-day camping facilities such as rooftop tents. These roof tents offer an excellent, modern way of camping that allows you to wild camp anywhere. 
Here are a few guidelines to follow when wild camping around Durdle Door.
Only camp in the same location for one night, ensuring you pitch your tent discreetly.

Always seek permission from the landowner if you think you may be wild camping on private land.

Setup tent at dusk and set down at the crack of dawn. A rooftop tent is discreet, blends with most landscapes, and is easy to set up and down.

Avoid making campfires when wild camping around Durdle Door.

Always take your rubbish with you and leave the campsite as you find it.
The bottom line
The Jurassic Coast is an excellent part of the world to camp and explore its outstanding natural beauty. With this guide to the best campsites, you can plan the perfect camping experience for a weekend away from your busy day-to-day life with friends and family.